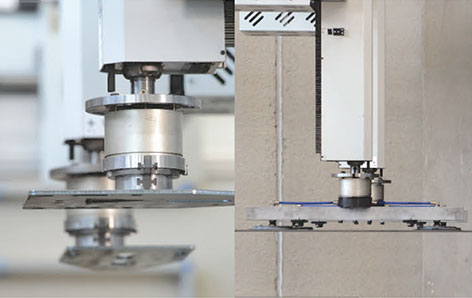 ASTES4SORT
ASTES4SORT (A4SORT) is an "lntelligent FMS" (Flexible Manufacturing System) - patented worldwide - specifically designed for sorting. A4SORT manages the loading of sheet metal up to 20mm thickness and 8000 mm length and the sorting of single cut parts generated by 2D cutting machines.
A4SORT is able to sort, move and stock cut parts of any shape, placing and kitting them for further use.
A4SORT con be fitted to new and/or already existing cutting systems. Due to its modularity, A4SORT con be easily installed in already-operative production sites. A4SORT effortlessly interfaces to automatic warehouses where sheet metal plates and cut parts pallets con be positioned.
A4SORT is applicable to all cutting processes where controlled, ruled and traceable production is required.
A4SORT is the combination of most advanced handling and picking technologies, managed by a powerful software able to grant maximum flexibility, productivity and repeatability integrated with ERP systems.